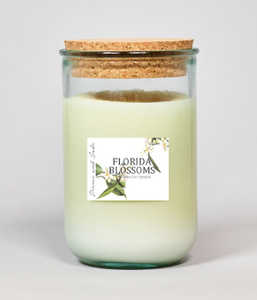 FLORIDA BLOSSOMS
Regular price
$28.00
$0.00
Unit price
per
Florida Blossoms Soy Candle
I fell in love with the scent of Orange Blossoms during my visit to a Florida Orange Grove. Being surrounded by orange trees that were bursting with fresh orange blossom flowers totally inspired this scent.
Top – orange, citrus zest
Middle – fresh flowers blossoms
Bottom – honey
Personal: Individually hand poured into 100% recycled glass jars covered with a cork lid. We would love for you to reuse our candle jars as flower vases or storage containers.
Ingredients: Sourced Soy Wax from local farmers.
Phthalate-free premium grade fragrance oils, cotton ribbon wick.
Burn Time: approx. 60 - 70 hours
Size: approx 10.0 oz, 3.0"W x 5"H
Safety: Never leave candle burning unattended.
Always trim candlewick to 1/8" – 3/16" each time before burning.
---