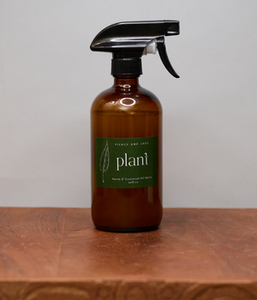 PLANT SPRAY - Neem and Essential Oil Base
Regular price
$12.00
$0.00
Unit price
per
Plant Spray 
Helps to keep your house plants healthy and pest free.
Shake well before use.

Spray directly onto foliage and stem or on to any pests present, including soil. Leave to soak for a few minutes, wipe foliage with a soft cloth or gently rinse off. Do not apply if or when direct sunlight is on foliage. Keep in a cool dry place out of direct sunlight. Application can be repeated after 7 days and as need. Only use as directed not for human consumption. Not made to control large pest infestation. 

Personal: Individually hand poured into amber glass bottles with a trigger spray. We would love for you to reuse the bottle as a plant water mister or refill with more plant spray.

Ingredients: Water, surfactant (soap), neen oil, blend of essential oils
Size: 16 fl oz

---